Athi Lamech
Born in Malaysia on one of her father's diplomatic postings, Athi is the youngest of eight children. Her Burmese parents of South Indian heritage, migrated to Australia when she was ten. She now works and lives in Canberra. Athi's curious nature and spiritual insights are reflected in her vivid, enigmatic paintings and drawings.
Athi believes that to walk this land is to encounter places that resonate with a living diversity. She also engages with nature in a very personal and quiet way. She takes time to absorb the language and the 'feel' of the landscape before committing it to paper or canvas. Her expressive landscapes make no distinction between the internal and external worlds. They are achieved through the use of subtle tones and mark-making using charcoal and contè. She creates tension through the use of exploratory lines to draw out the essence of the landscape or emotion that she experiences. Athi delights in 'taking the line for a walk' a term used by a well-known artist Paul Klee - an idea which she has been exploring for a period of time.
This collection of works, created for the exhibition WINTER 2015 at Aarwun Gallery have been embellished with gold leaf detail.
Her study of the Australian landscape includes; central Australia, Flinders Ranges and the Canberra region. Athi's works are held in both private and public collections in Australia.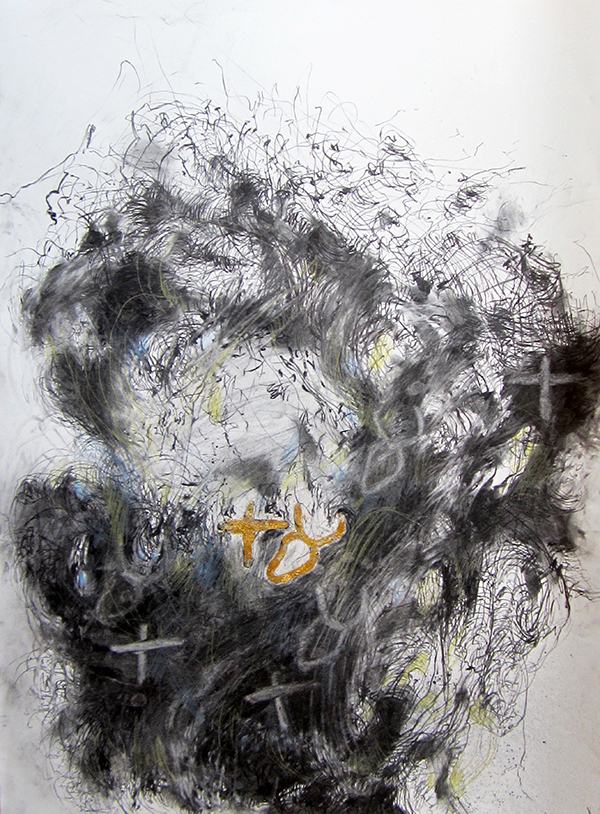 Athi Lamech Beginning the End
charcoal, gold leaf & conte on paper 59 x 84 cm
Athi Lamech Mother
charcoal, gold leaf & conte on paper 59 x 84 cm